ACT WITH SKILL
Each employee has access to a series of tools to craft his or her career path.
The most important of these tools is the annual performance review that offers each of them a chance to mark their progress, the skills they have acquired, and the state of their training plan. It's an opportunity to review their job sheet and match their desires for advancement with concrete opportunities offered by MG-VALDUNES.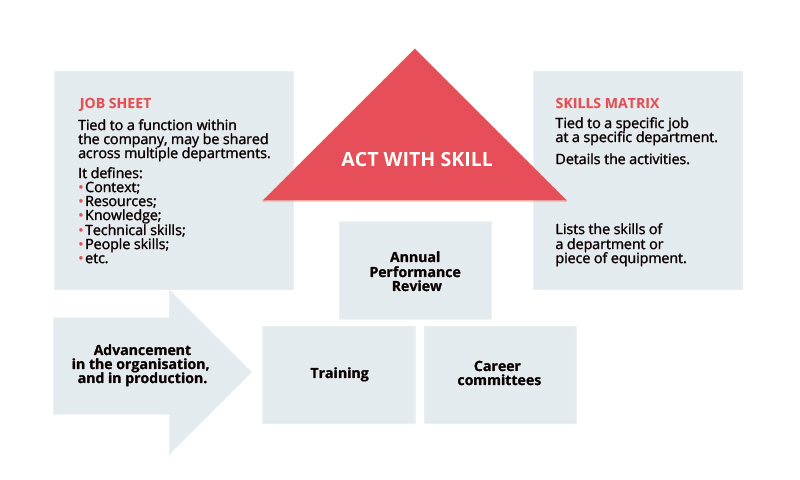 Some examples of career development within the company:
Eddy, who held a job as a measurement technician in the machining shop, moved to purchasing: training in his new duties was offered to him;
Tony became a forge technician after having served as a methods technician;
Pierre was a lathe operator who now acts as a Facility Management Technician;
Maxime, who is certified in magnetic particle inspection, wanted to become a testing technician.
The Human Resources Division works to improve managers' skills as well. It has set up a local management training programme. Franck and Laurent were thereby able to take the CQPM exam to manage an independent team. By accompanying managers on a regular basis, HR sheds light on their actions and the best ways to achieve the goal that has been formulated.
OUR JOB FIELDS
Sales:
Sales assistant;
Customer representative.
Manufacturing (hot):
Heat treatment agent;
Metallurgist;
Cutting tool operator;
Thermal maintenance technician.
Manufacturing (cold):
Testing agent;
Non-destructive testing agent;
End testing agent;
Finalization agent;
Tool adjuster;
Wheelset assembly agent;
Fitting mechanic;
Turner mechanic;
Engineering:
Engineering manager;
Project manager;
Design R&D engineer;
Technical studies manager;
Calculator technician;
Product studies technician.
Logistics:
Logistics agent;
Shipping/transport technician.
Maintenance:
Maintenance agent;
Electrical automation engineer;
Hydraulics mechanic;
Maintenance preparer;
Test manager;
NDT technician;
Test technician;
Environment technician;
Measurement technician;
Quality technician;
BFT technician;
Forge methods technician;
Machining methods technician;
Test laboratory:
Sample machiner/preparer;
Mechanical testing technician - Material acceptance;
Metallurgical testing technician - Studies.
Scheduling:
Warehouse manager;
Scheduling technician.